News
NC Smart Fleet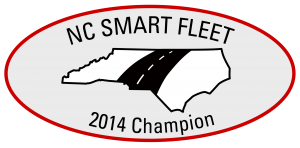 Epes Transport System recently applied for the NC Smart Fleet Initiative. The Smart Fleet Initiative has potential cost savings for Epes Transport and demonstrates to our customers our commitment to environmental protection and efficient business practices. Participation gives us access to NC Clean Energy Technology Centerís team of experts who can work with us to design and implement smart practices for our fleet.
On October 14, 2014 we were informed that our application was accepted and that we had achieved the Champion Level. The Champion Level signifies that our fleet has demonstrated a reduction in petroleum use over several years and has supported additional petroleum reduction activities. Epes will also be presented an award on October 24th at the Southeast Alternative Fuels Conference.
We are very proud of this award and will continue to pursue clean energy alternatives whenever possible. A special thanks to Mike Glynn and Paul Huffman in our Maintenance Department.
Back to List